Venue
The Conference Venue is the International Conference Center of the Mediterranean Agronomic Institute of Chania (MAICh) [web site]
The International Conference Center of MAICh, with its versatile design combines first class standards of comfort and service with the latest technology in a prestigious location. It is situated in a picturesque, typical Mediterranean pine-tree forest setting, 3 km south-east of the city of Chania, 13 km from the international airport and 1 km from the port.
Established in 1990, it satisfies the requirements of very sophisticated and advanced conferences; ministerial meetings; accommodates seminars, symposiums, meetings and presentations; and hosts simultaneously or independently exhibitions and poster sessions.
Conference Facilities
The conference halls are supported by all modern audio-visual equipment, including video projectors, large screens, simultaneous interpreting system, laptops, cordless microphones, exhibition stands, internet (high speed wireless access), and technical support.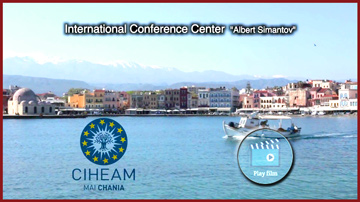 Watch the video for the International Conference Center of MAICh
Chania, the host city
The city of Chania is located on the north-east coast of the Prefecture of Chania. It is the capital of the prefecture and its administrative, economic, commercial and transportation center. It has a population of over 60.000 residents and is built over the ruins of the ancient city of Kydonia. Since ancient times, the city of Chania has faced many conquerors and bears the influences of many civilizations through time, evident in the city monuments. The beautiful city of Chania managed to preserve its historical character, despite the fast-growing tourist industry. It is considered as one of the most beautiful cities of Greece and the most picturesque city of Crete. The city of Chania is also characterized by a rich cultural life. A plethora of cultural events are organized every year (exhibitions, festivals, theatrical and musical performances, ect.)
The city has an airport and the port of Souda, the largest natural port of the Mediterranean.
The Municipal Market is one of the most central spots in the city, hosted in a 1913 building. A short distance from the center there is the Municipal Garden and next to it the park "Eirinis kai Filias" (meaning, the "park of peace and friendship").
The Venetian port provides pleasant promenades through picturesque streets and attracts many visitors throughout the year. There are also many bars and restaurants by the seaside, catering for every taste. The districts of the city outside the walls still preserve their Venetian nobility. Narrow passages surrounded by elegant houses built in different historical periods offer visitors pleasant routes to discover. Many neoclassic buildings are also preserved in neighboring districts, such as in "Halepa".
Source: http://www.chania.gr/en
For more information about Chania and Crete, please visit www.incrediblecrete.gr